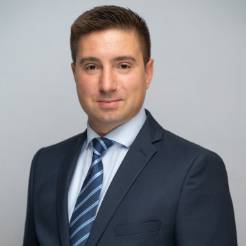 Milosz Zak
Senior Associate, Farber Tax Law
Milosz is an Associate at Farber Tax Law, and his practice focuses primarily on tax litigation, Canada Revenue Agency (CRA) objections and audits for clients across Canada. He is counsel for clients, on both income tax and GST/HST matters, and represents individuals and corporations at all stages of the CRA's audits and appeals to the Tax Court of Canada.
In addition, Milosz assists with voluntary disclosure and taxpayer relief applications. He values measured advice, diligent analysis, and clear communication.
Milosz received his Juris Doctor degree with a tax specialization from Osgoode Hall Law School (2018) and brings a specialized perspective to his tax advocacy work. The tax law curricular stream at Osgoode is unparalleled in Canada and provides graduates with a superior foundation in tax law. While studying tax law at Osgoode, Milosz was the recipient of the Harley D. Hallett entrance scholarship, the MacGregor Sinclair Class of 1996 award, and was elected president of the Osgoode Tax Law Association.
He also has a master's in economics from the University of Toronto's Munk School. His economics background has been invaluable in crafting innovative solutions to complex tax law problems in response to opposing counsel, CRA officers exercising discretionary authority, and other adjudicators in the Canadian justice system.
Before joining Farber Tax Law, Milosz articled at one of Canada's foremost tax law boutiques in downtown Toronto, assisting with sophisticated domestic and international tax planning matters, in addition to tax litigation and CRA dispute resolution.
Milosz is admitted to the Law Society of Ontario. He is also an executive member of the Taxation Law Section of the Ontario Bar Association.
In his spare time, Milosz enjoys road biking, hiking, and travelling in the summers. In the winters, he enjoys cross-country skiing and outdoor skating. 
Regardless of the season, he loves meeting new people, making interesting connections, and experiencing places and cultures.