Need Taxpayer Relief For Your Tax Debt?
Let Us Help.
Let our team of expert team of ex-CRA professionals help you resolve your tax debt problem and find you relief.
We can effectively help:
Review your tax situation
Develop a strategic plan to eliminate or reduce tax penalties and interest
Fill out the web form or call us to get started.
Solve Your Tax Problem
Book A Free Confidential Consultation
&nbsp
We can help you get Taxpayer Relief for your CRA debt.
The CRA can charge very large penalties and interest charges to taxpayers who file tax returns late, make mistakes on tax returns, etc. These penalties and interest charges can sometimes double and even triple the size of your tax debt, making it essentially impossible to repay.
Section 220 of the Income Tax Act and section 281.1 of the Excise Tax Act allow the CRA to grant relief based on fairness in instances where extraordinary circumstances led to some aspect of non-compliance. Commonly known as the Taxpayer Relief Program, the CRA has the discretionary power to cancel penalties and interest; extend, amend or revoke certain elections; and issue a refund or make an adjustment beyond the normal three-year reassessment period. However, the process must be handled correctly as the CRA only grants taxpayer relief in very specific situations.
Through a request for taxpayer relief, our experienced team of ex-CRA professionals at Farber Tax Solutions can make arguments as to why the CRA should forgive some or all the penalties and interest on your tax debt. While CRA debt forgiveness does not include reducing your tax principal, it can result in the complete elimination of penalties and interest.
Farber Tax Solutions can:
Review your tax situation
Develop a strategic plan to eliminate or reduce tax penalties and interest
Don't fight the CRA alone. Successfully requesting Taxpayer Relief can be challenging. Those seeking relief must submit a formal application and provide evidence to support their claim. While the CRA aims to administer the income tax system fairly and reasonably, they adhere to strict guidelines and have high standards of proof. Quite often, the CRA engages in a dialogue and must be persuaded to act favorably. As such, it can be difficult and time-consuming for taxpayers to navigate this complex process
Our team of ex-CRA professionals have built a proven track-record that comes from our extensive knowledge of all aspects of the Taxpayer Relief process. Even if you are not eligible for the formal Taxpayer Relief Program, we can still help develop an alternate plan to improve your tax situation.
To request your free confidential consultation, please call us at (888) 822-7819, or fill in the form on the top of this page.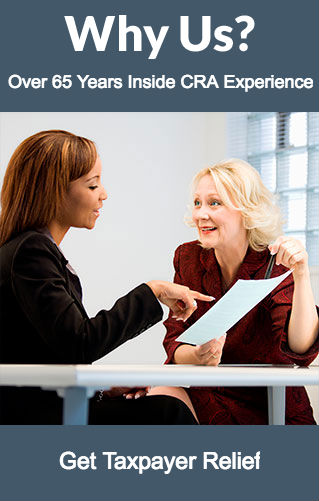 Years of Ex-CRA Experience
*Past results are not necessarily indicative of future results and the amount recovered will vary according to the facts in individual cases.
We Help Clients Across Canada
Thank you for all your help and guidance dealing with this horrible issue! I will recommend you to anyone I know that needs a tax solution! I look forward to putting this behind me and moving forward. Thanks again for all your guidance!!
Again I can't thank you enough! My life has been far more calm in so many ways after meeting with you. I have had many family members and friends mention how happy I seem lately. It's truly a reflection of your hard work and ability to do your profession so great!"
I don't even know where to.begin or how to even thank you for lending an ear this morning. Without even seeing any type of documentation to support my situation .. you offered support, guidance and most of all kindness. THANK YOU from the bottom of my heart!!

Copyright © 2018 Farber Tax Solutions