Avoid CRA Penalties & Prosecution By Filing A Voluntary Disclosure.
Let Us Help.
Let our team of ex-CRA, tax lawyers and tax accountants help you file a voluntary disclosure and avoid missteps.
We can effectively help:
Review your tax situation
Disclose unfiled reports any undeclared income
Negotiate the terms of your disclosure to avoid penalties, interest and legal action
Fill out the web form or call us to get started.
Solve Your Tax Problem
Book A Free Confidential Consultation
&nbsp
We can help you file a successful Voluntary Disclosure.
It isn't unusual to make mistakes on taxes. Under the Income Tax Act, an error or omission on your tax return (such as unreported income/assets) is subject to penalties, interest and even prosecution. However, the Income Tax Act also allows for taxpayers to come forward and correct their errors under the CRA's Voluntary Disclosures Program (VDP).
The longer you wait to declare your undisclosed income, the higher the chances of being caught by the CRA. A voluntary disclosure is your opportunity to make things right between you and the CRA before it's too late. To be eligible for relief, the disclosure must be voluntary, complete, accurately report income and the information being disclosed must be at least one year past due.
This means a disclosure must be done with extreme care, as even a small misstep can result in serious consequences.
The challenge of making a voluntary disclosure lies in negotiating the terms of the disclosure with the CRA to avoid penalties, interest, and legal action. Moreover, the CRA only allows only one chance to make a disclosure. Therefore, it is crucial that the submissions are accurate and complete.
Farber Tax Solutions can:
Review your tax situation
Disclose unfiled reports any undeclared income
Negotiate the terms of your disclosure to avoid penalties, interest and legal action
Don't file a Voluntary Disclosure without expert help. Our team of ex-CRA, tax lawyers, and accounting professionals have built a proven track-record that comes from our extensive knowledge of all aspects of VDP including the new program. We can help confidentially determine whether you are eligible for the VDP and ensure that your voluntary disclosure application is successful.
To request your free confidential consultation,  please call us at (888) 822-7819, or fill in the form at the top of this page.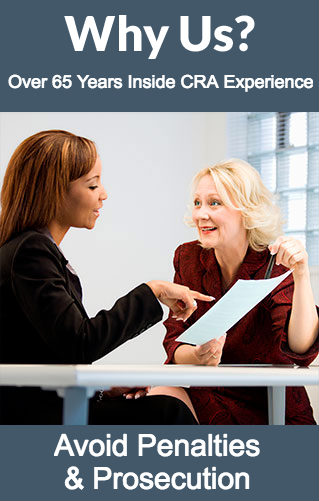 Years of Ex-CRA Experience
*Past results are not necessarily indicative of future results and the amount recovered will vary according to the facts in individual cases.
We Help Clients Across Canada
Thank you for all your help and guidance dealing with this horrible issue! I will recommend you to anyone I know that needs a tax solution! I look forward to putting this behind me and moving forward. Thanks again for all your guidance!!
Again I can't thank you enough! My life has been far more calm in so many ways after meeting with you. I have had many family members and friends mention how happy I seem lately. It's truly a reflection of your hard work and ability to do your profession so great!"
I don't even know where to.begin or how to even thank you for lending an ear this morning. Without even seeing any type of documentation to support my situation .. you offered support, guidance and most of all kindness. THANK YOU from the bottom of my heart!!

Copyright © 2018 Farber Tax Solutions