We Fight CRA Tax Liens.
Let Us Help.
CRA lien removal is difficult but necessary. A CRA lien on property you own can be a serious financial issue and a large burden. Let our team of ex-CRA professionals help you remove a CRA tax lien
The team at Farber can can effectively:
Protect your home from the CRA
Negotiate payment arrangements with the CRA to remove the lien
Resolve the tax issues that lead to the CRA liens in the first place
Protect your rights at every stage of the process
We have the experience you need to stop CRA collection efforts and penalties against you
Fill out the web form or call us to get started.
Solve Your Tax Problem
Book A Free Confidential Consultation
&nbsp
CRA Lien Removal from our Tax Experts
At Farber, our team is made up of ex-CRA professionals who know CRA processes inside and out. The Canada Revenue Agency (CRA) can put a lien on your property without warning or consultation if the agency believes you own money. Whether it's a business tax lien or a personal income tax issue, the agency can place a lien on your property first and then tell you about it later.
Tax liens are charges registered against your home or business property. This means if you sell the property, the CRA has a claim against the value of the building. Once you sell, the money you make from the sale will be used to pay off your mortgage first and the remaining funds will go towards the tax lien. This means the CRA could potentially take all of the profits of selling your home or business property.
Obviously, this isn't a good situation to be in financially. Paying off your tax debt can get the lien removed, but this is easier said than done, especially since interest charges and penalties continue to add up as long as the debt remains outstanding. These costs can cause your tax debt to continue to grow, making it incredibly difficult to pay off.
Negotiating a payment plan with the agency can lead to CRA lien removal, but the Canada Revenue Agency is notoriously difficult to negotiate with. Not only do you need to have extensive knowledge of Canadian tax law to be successful, but the agency will often be very demanding during negotiations, especially when it comes to a tax lien payment plan. The CRA considers its debt the most important and it will demand that you put a large portion of your income towards tax debt repayment. This can make it tough to pay bills and make ends meet.
Our team has the experience and knowledge necessary to not only navigate complex CRA processes but to successfully negotiate with the CRA on your behalf. We have a proven history of successful negotiation, tax issue resolution, CRA lien removal, and much more. Whether you have a business tax lien or a personal tax issue, trust our team to help.
Contact us today to discuss tax liens and any tax problems you may have. To request a free consultation, please call us at (844) 632-9700, or complete the form on this page.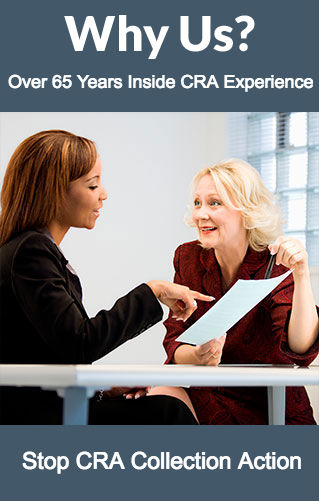 Years of Ex-CRA Experience
*Past results are not necessarily indicative of future results and the amount recovered will vary according to the facts in individual cases.
We Help Clients Across Canada
Thank you for all your help and guidance dealing with this horrible issue! I will recommend you to anyone I know that needs a tax solution! I look forward to putting this behind me and moving forward. Thanks again for all your guidance!!
Again I can't thank you enough! My life has been far more calm in so many ways after meeting with you. I have had many family members and friends mention how happy I seem lately. It's truly a reflection of your hard work and ability to do your profession so great!"
I don't even know where to.begin or how to even thank you for lending an ear this morning. Without even seeing any type of documentation to support my situation .. you offered support, guidance and most of all kindness. THANK YOU from the bottom of my heart!!

Copyright © 2018 Farber Tax Solutions