Get Ex-CRAs To Help You File A Notice Of Objection
With over 55 years of collective experience working for the CRA, Farber Tax Solutions is uniquely equipped to help you fight an unfair CRA assessment with a notice of objection.
Farber Tax Solutions can effectively:
Review your unique situation and develop reasonable grounds for objection
Develop and file a proper notice of objection within the allotted filling time frame
Halt the accumulation of all interest and penalties upon receipt of the Notice Of Objection
Negotiate on your behalf with the CRA to ensure a more favourable outcome for you
Fill out the web form or call us to get started.
Solve Your Tax Problem
Book A Free Confidential Consultation
&nbsp
We Can Help You Fight An Unfair CRA Assessment With A Notice Of Objection
A CRA assessment can ultimately cost you a significant amount of money in taxes owing.
When the CRA provides you with one of the following, you need to be on high alert to ensure your assessments are fair and do not lead to you being over taxed:
A CRA reassessment (Notice of Reassessment) – this is when the CRA disagrees with your tax return and reassess you, re-determining what you owe and assessing penalties and interest on the new tax.
A notional or arbitrary assessment – this is when you haven't filed a return and the CRA prepares your return for you, estimating your income and assessing penalties and interest accordingly.
You don't have to simply accept a CRA assessment. You can object by filing a formal Notice of Objection. If successful, the CRA can retract a previous decision and the according penalties and interest.
A Notice of Objection is a time-sensitive process where you have to file within specified time frames. When we file an objection, we clearly outline the issue that is in dispute, why it has resulted in an incorrect assessment, and provide any and all relevant documentation that supports the objection.
Our ex-CRA auditors and legal professionals routinely negotiate highly successful outcomes through the objection process for our clients.
If you have a Notice of Reassessment, CRA assessment or tax audit that you disagree with, contact us as soon as possible for a free initial consultation to see if a notice of objection is the right option for you. To request your free consultation, please call us at (888) 822-7819 or fill in the form on the top of this page.
Talk to a Ex-CRA Tax Dispute Expert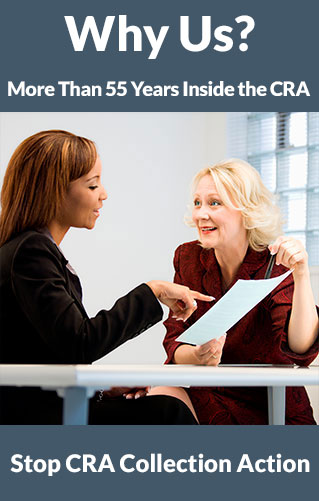 Years of Ex-CRA Experience
*Past results are not necessarily indicative of future results and the amount recovered will vary according to the facts in individual cases.
We Help Clients Across Canada
Thank you for all your help and guidance dealing with this horrible issue! I will recommend you to anyone I know that needs a tax solution! I look forward to putting this behind me and moving forward. Thanks again for all your guidance!!
Again I can't thank you enough! My life has been far more calm in so many ways after meeting with you. I have had many family members and friends mention how happy I seem lately. It's truly a reflection of your hard work and ability to do your profession so great!"
I don't even know where to.begin or how to even thank you for lending an ear this morning. Without even seeing any type of documentation to support my situation .. you offered support, guidance and most of all kindness. THANK YOU from the bottom of my heart!!

Copyright © 2018 Farber Tax Solutions