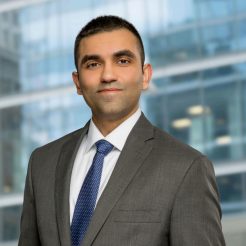 Khalid Tariq
Director, Farber Tax Law*
Khalid Tariq is the Director of Farber Tax Law and leads the legal practice. As a Canadian tax lawyer, Khalid practices exclusively in tax litigation and dispute resolution for both income tax and GST/HST issues. Among other things, his experience includes dealing with tax audits, objections, tax court appeals, voluntary disclosures, requests for taxpayer relief, and CRA collections action.
Bar Admission
Education
Osgoode Hall Law School, JD
Schulich School of Business, BBA
Language(s)
Memberships
Law Society of Upper Canada
The Canadian Bar Association
The Ontario Bar Association
The Canadian Tax Foundation
The Advocates' Society
*Farber Tax Law is an independent tax law firm affiliated with Farber Tax Solutions Inc.
Years of Ex-CRA Experience
*Past results are not necessarily indicative of future results and the amount recovered will vary according to the facts in individual cases.
We Help Clients Across Canada
"The power the CRA holds over individuals is unbelievable. I could not believe we had to experience this treatment and I firmly believe Scott saved the day, our sanity and our financial future. Farber Tax knows their stuff, and I highly recommend them to be in your corner."
"Again I can't thank you enough! My life has been far more calm in so many ways after meeting with you. I have had many family members and friends mention how happy I seem lately. It's truly a reflection of your hard work and ability to do your profession so great!"
"I don't even know where to.begin or how to even thank you for lending an ear this morning. Without even seeing any type of documentation to support my situation .. you offered support, guidance and most of all kindness. THANK YOU from the bottom of my heart!!"